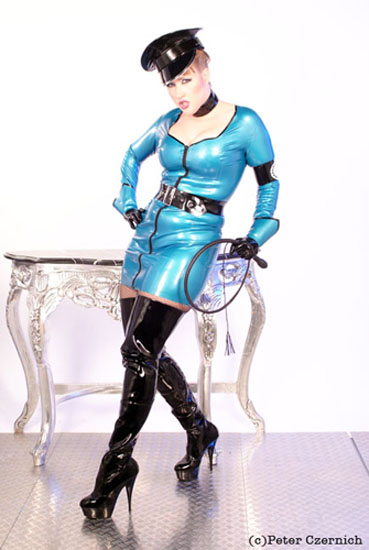 Julie Simone became familiar with the BDSM lifestyle through an accidental turn in the glamour modeling arena; a turn that opened her eyes and changed her life forever. She has since explored that world as a bottom, top and now as a photographer filmmaker who is fascinated by the process through which one can completely lose or find oneself through submission and pain.
She has been a photo and video model for 14 years, has appeared in over 350 videos, served as a bondage consultant for mainstream films, appeared on G4TV's "Attack of the Show" & Playboy TV. She's graced numerous runway stages, glamour & fetish websites, magazines & books. Julie has also done a number of stage shows/performances at SMACK! NYC, Fetish Factory, Stimulate, Miss Rubber World, FetishCon, BondCon, DomCon LA & Atlanta, Bondage Ball, LA Fetish Ball, Bound, Baltimore Erotic Art Festival, BoundCon Munich, Exotica Detroit, German Fetish Ball.
Julie quickly rose to the top of her field, placing in the finals for the Best Model Category in the SIGNY Bondage Awards in 2001. Along the way, she started to rig others & was voted the 2nd Best Rigger in 2003 before reaching her goal of Best Rigger in the World in the 2004 SIGNYs. She was the 1st female to have achieved this honor, opening the doors for other female riggers to earn respect & accolades in a field once dominated by men. She was a finalist for Best Model that year as well, becoming one of only two women in the industry to be awarded for excellence both as a model & a rigger in the same year. In the 5 years the awards were held, Julie was nominated for best model all 5 times & was one of the finalists for rigging 4 out of 5 years. Julie has shared her knowledge by teaching bondage classes at major fetish events including German Fetish Ball, ShibariCon, FetishCon, DomCon , Xanadu, Purple Passion NYC, & BondCon, as well as at local club-oriented events and one-on-one private bondage classes.
After winning Best Rigger, she moved on to her next challenge, directing! Her DVDs go beyond most by delving deep into the psychology of SM play, giving the viewer an inside look into a dark, mysterious and often misrepresented world. As a director Julie has gained recognition for her stylized and often twisted tales with multiple AVN nominations and film festival screenings. "Diary of a Submissive" was shown at the prestigious Cinekink Film Festival NYC in 2006. "Anonymity", a short film, showed at the New England Erotic Arts Festival, Cinekink (Portland, SF, NYC, DC, Chicago, LA, Berlin). The controversial "Audition" was screened at the LA and Baltimore Erotic Festivals and the Berlin Porn Film Festival. It was also named one of the top 20 porns of 2007 by Eros Zine alongside films by Tera Patrick and Jenna Jameson, catapulting Julie's career as a director & establishing her as a creative force in the industry. "Cocksucker", a film that questions gender roles as they relate to control and submission, was shown at Cinekink NYC, Cinerotic, MIX Festival, Keil Fetisch Festival & the Berlin Porn Film Festival, where Julie was 1 of 4 film makers given their own program. She also spoke on a panel of female film makers at the event. "Cocksucker" earned Julie an honorable mention in the Feminist Porn Awards. 2010 brought more film festival screenings for Julie. Her short film "Dolls Fit" which explores the relationship between a mother's expectations w regards to gender roles, was screened at Berlin Porn Film Festival, Cinerotic, Cinekink, Athens Porn Film Festival and the MIX Festival in Uruguay & Rio. Her film "Service", which explores the Domme-Sub dynamic through language, and the controversial "Masturbation Roulette" earned worldwide screenings as well (MIX Festival Brazil, Kiel, Berlin). In 2011 Julie returned to the festival circuit with "Skin's 1st Suspension" and "Latex Dreams" with showings in NYC, Portland, LA, Las Vegas, Chicago, Kiel and Berlin as part of the Cinekink, Keil Fetisch, and Berlin Porn Film Festivals. "Latex Dreams" was honored w a selection for the Short Film Competition in Berlin. A docu-series Julie starred in, "Dominatrix Diaries" was shown at the NY Television Film Festival in NYC, held by A&E, and a clip starring Julie called "Dominatrix in the Park" went viral and was featured on Gawker, Tosh.0, VH1, BuzzFeed, and more.
Julie is also an accomplished photographer whose work has appeared in Secret Magazine, Bizarre, Fetish Photo Anthology 4 & 5, Bondage and Fetish (France). 2007 was a big year for her photography, she showed work in juried festivals including The Dirty Show, Seattle Erotic Arts Festival, Folsom Street Fair Art Exhibit at Femina Potens gallery, and was a part of the Traveling Erotic Art Show which had exhibits in San Francisco, Seattle, Chicago, New York, and Florida.
2012 was a huge year for Julie as she garnered 6 AVN Nominations, 3 XBiz nods, 5 Feminist Porn Awards nominations and she exhibited her photography as part of the S.W.E.A.T. wall of the Dirty Show which features erotic works by women. She also starred in a mainstream show, "Dominatrix Diaries" which premeires on Blip TV July 9th. Julie's company inked a distribution deal with Pure Play Media this year as well, a move that she hopes will bring her work to an even larger audience. Julie became a spokesmodel for KLAWTEX latex, and she became a featured columnist for Scene Magazine. Julie's previous writing credits include the now defunct Boyd X, Social Kink, the e-book "The World of Julie Simone", and the foreword for the book "Smut in Hotel Rooms". -"I always need to be pushing some sort of envelope whether it be personal or otherwise"
2013 and 2014 marked a change in Mistress Julie Simone's focus. She was awarded lifetime achievement awards by being inducted into the AVN Hall of Fame and being given the Indie Porn Icon award at the Feminist Porn Awards. Julie showed work at the Berlin Porn Film Festival later that year -"Deconstructed Beauty" and "The Perfect Woman Awakens". These two films both had serious tones and used fetish imagery to depict emotional pain and suffering and unconventional ways of releasing that pain. Julie also started to focus more on teaching bondage classes and taught her Femdom Bondage Intensive 3 hr class in NYC and a 4 hr Couples Bondage Class in Denver Colorado. For 2014 Julie is concentrating on private Domination sessions, bondage classes, her new tshirt line, publishing books of her photography and her street art.
Julie's photography and films deal with themes that explore the relationship between identity and society, gender roles, the dehumanization of man and the struggle to accept ones deviant sexual urges. They often utilize bondage or fetish elements as metaphors. "My goal is to produce work that works on multiple levels - an erotic level and an underlying level that deals with any number of themes that are prominent in my work. Identity as it relates to gender roles and sexuality is often a major theme. It's only when something can be enjoyed on both levels without one interfering with the other, that I view something as a success." Julie currently resides in New York City where she has her own dungeon/studio.
The future for Julie Simone Productions consists of Julie filming the things she enjoys: latex, smoking, and SM, while constantly striving to improve the perception and acceptance of women in the business. "Aside from wanting to make a living, it's really important to me to create a safe and pleasant atmosphere for women in the business. Being a performer myself I know how hard it can be. That, more than anything, makes me feel good about what I'm doing. As an artist I can create in any medium, I choose this one because there is a greater good that can be achieved, a greater visibility I think is important." --Julie Simone